Barbara Braxton posted this information today and I felt it was worth sharing:
For those of you wondering about the significance of today's Google logo,
as I was, it is in honour of
Norman Rockwell
's birthday.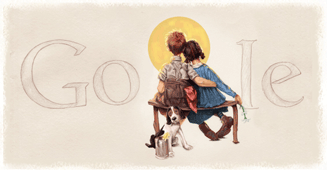 Rockwell "was a 20th-century American painter and illustrator. His works
enjoy a broad popular appeal in the United States, where Rockwell is most
famous for the cover illustrations of everyday life scenarios he created for
The Saturday Evening Post magazine over more than four decades."
http://en.wikipedia.org/wiki/Norman_Rockwell
Since the controversy over the
Google logo
for
Australia Day
I have discovered that

if you

click on the logo
it takes you to

an explanation

of its background.